is your website visible in search engins ?
Search Engine Marketing – SEM
Search engine marketing is a form of Internet marketing used for the promotion of websites by increasing their visibility in search engine results pages by optimization and advertising. SEM is growing much faster than traditional advertising and even other channels of online marketing.
We offer you the following benefits by Search Engine Marketing:
Productivity
Providing a series of keywords and automation tools; enabling you to accomplish more search engine marketing in less time.
Relevance
A system of daily keyword suggestions that can help you refine your keyword list which consistently improve your search engine rankings.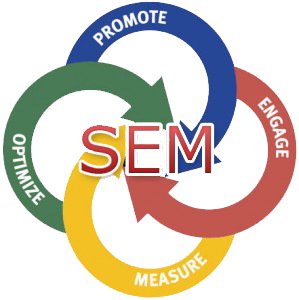 Analysis
We ensure your site is indexed in the search engines by finding the most relevant and popular keywords for the site and its products. We use those keywords in a way that will generate and convert traffic towards your site.
Never Ending Keywords
To optimize your search engine marketing efforts, we track new visitors to your site and enter new search queries based on what visitors are actually typing in to find your site. This ensures that you have an extensive list of keyword information due to the addition of new keywords to your database.
A Relevant and Exclusive Keyword List
Be sure that these keywords are specific to your site because this information is pulled from your site. Other search engine marketing firms only provide premade cookies.
Saturation and popularity
The number of pages of the site that are indexed on search engine shows the saturation and, the popularity is shown by the back-links the site have. It requires a lot of pages to contain keywords people are looking for. Finding the keys, you need to market your website effectively, is our goal.
Back end tools
HTML validators and web analytic tools provide data on a website and its visitors and allow the success of a website. These tools deliver conversion-related information. We ensure your website would meet W3C code standards.
Why Us
This is a fully-featured search engine marketing application that offers a lot. We provide you with unique keyword grouping. Offering your site the benefit of more productivity and high relevance.